The Parking Lot Gourmet
Kathryn Roethel Rieck — Rocky Mountain PBS
Original article appears here: https://rockymountainpbs.atavist.com/the-parking-lot-gourmet
August 2015
The USA Pro Challenge cycling race rolled through Colorado this week, starting in Steamboat Springs Monday and pedaling to the finish line in Denver today.  One of the most surprising stories from our home-state race features our home-state World Tour team – Cannondale-Garmin. While the team's riders are out on the roads every day, the team's chefs are cooking their breakfasts and dinners. And they're doing it in a rented RV… in a parking lot… without an oven…
Cannondale-Garmin's head chef for the American races, Barb Grealish, took us inside her kitchen on wheels this week, during Friday's time trial stage of the race in Breckenridge. Here are five things you may not know about how Boulder-based Cannondale-Garmin feeds its competitors.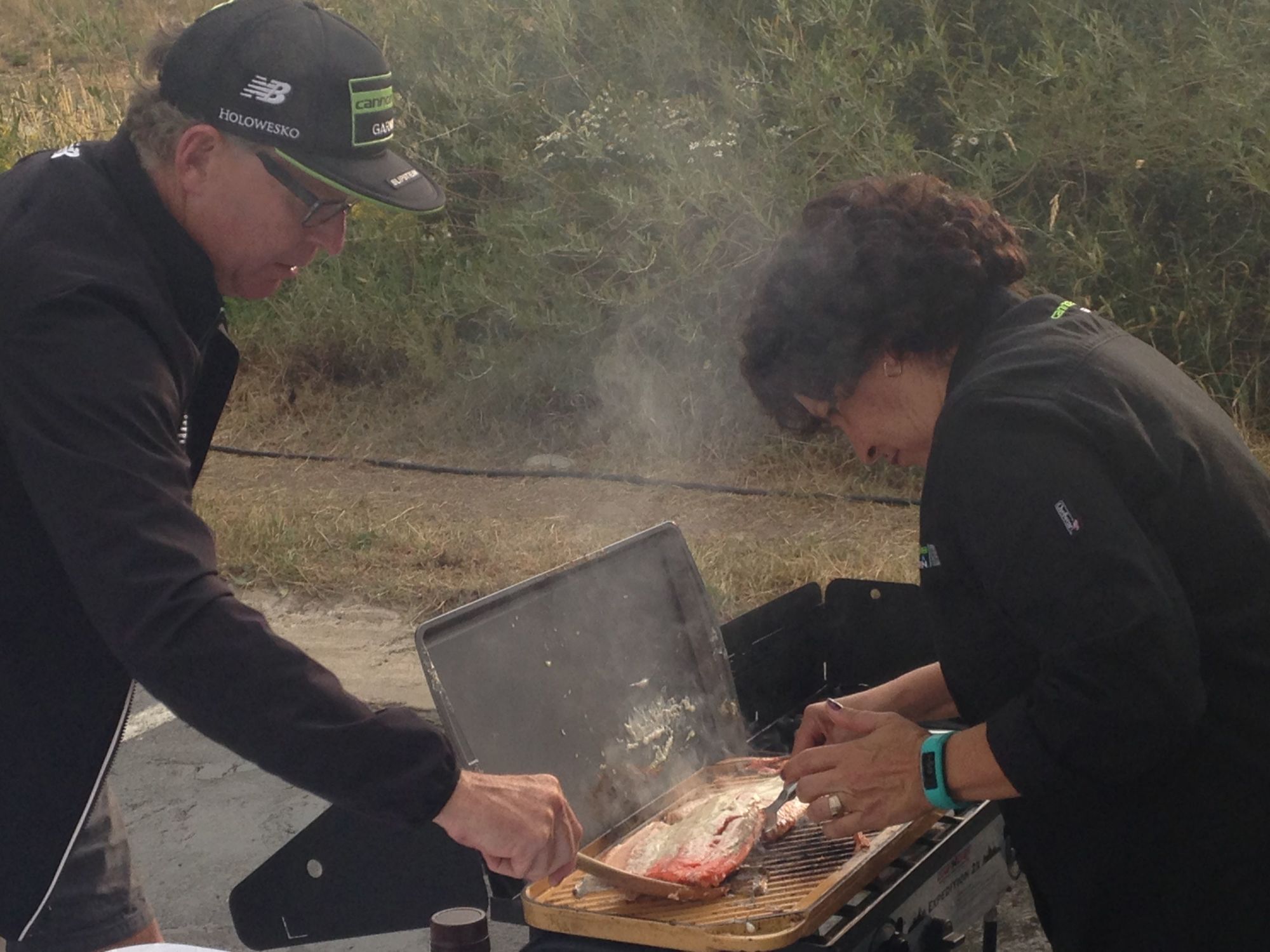 Husband and wife team Chris and Barb Grealish own and operate Denver/Boulder Couriers most of the year, but when Cannondale-Garmin races in the United States, they pack up the rented RV and cook the team's meals.
Cooking on the Tour is Like Cooking on a Fancy Camping Trip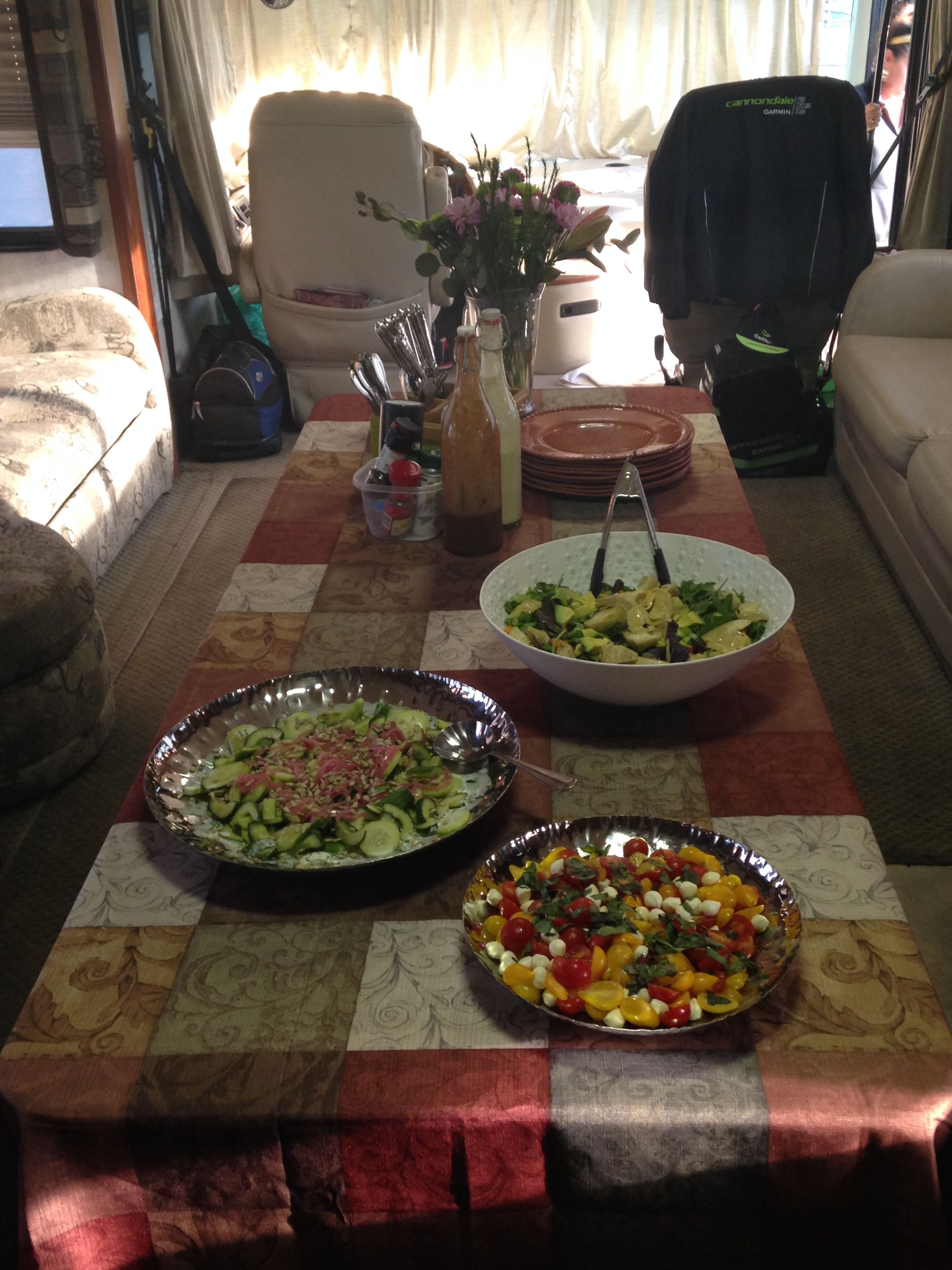 All of Grealish's meals include lots of fresh vegetables. In Breckenridge, she served (from top) tossed green salad, cucumber salad with pickled red onions and caprese salad with cherry tomatoes. 
Every day of the week-long race, Grealish prepares the team's meals in a rented RV stationed in the parking lot alongside the team bus. It has a refrigerator and freezer, a small stovetop, sink, and microwave. Grealish and her "sous chef" husband Chris removed the RV's mattress and re-purposed the space to store non-perishable foods and cookware, including two crockpots, a juicer/blender and a large ice chest branded with a Cannondale-Garmin sticker. On days when the weather's nice, as it was in Breckenridge, they set up a propane grill outside the RV.
Erin O'Neill, partner of one of the team's mechanics, joined the Grealishs' cooking squad this summer. She specializes in healthy desserts. On Friday, she treated the riders to honeydew granitas and no-bake Mexican wedding cookies with almonds and dates.
The menus are gluten-free, with little dairy, little sugar and lots of veggies
Friday's dinner menu featured grilled salmon filets with yogurt dill sauce, coconut rice, Caprese salad with cherry tomatoes, tossed green salad, riced cauliflower and cucumber salad with pickled red onion. The beverages were recovery drinks with beets, apples, carrots, lemon juice and ginger.
"We take nutrition seriously," Barb said. "There's a saying we like to quote, 'You don't put regular gas in a Ferrari.'"
She added that the hotel food is made in large quantities and may have been cooked hours before the riders eat it, but because she cooks for less than a dozen riders and staff "it's fresh and made to order."
For breakfast, Barb normally likes to serve oatmeal and a cooked-to-order egg station. But on Friday evening, she was pre-making sweet potato and egg breakfast burritos to serve during Saturday's early morning drive from Breckenridge to Loveland.
"It's something you can eat with one hand on the bus," she said. "That way, they don't have to wake up any earlier to eat before they leave."
Unlike Other Teams, Cannondale-Garmin's Riders Eat on the Bus – And It's Fancier Than It Sounds
Colorado-based World Tour pro cycling team Cannondale-Garmin eats its meals on the team bus during stage races. American team chef, Barb Grealish, cooks breakfasts and dinners in an RV next door. 
Most teams eat the breakfasts and dinners that the race officials organize at the hotels, but Cannondale-Garmin eats their own meals on the team bus. It has a long table down the middle, flanked by couches and chairs, and the riders serve themselves buffet style, using real dishes, silverware and paper napkins branded with the team logo. Barb served the salmon on a tray garnished with sprigs of dill, and, on this night, there's even a centerpiece – the bouquet of flowers rider Ruben Zepuntke won when he finished third in Wednesday's stage of the tour. Whenever a rider reaches the podium, it's team tradition to put his flowers on the dinner table.
Even Clean-Up Revolves Around Bikes
There's not enough space – or water – in the RV to wash the post-meal dishes, so Chris Grealish came up with a solution fitting to a bike race. He loads up the dishes into his bike trailer and pedals them to be washed in the hotel kitchens where the team stays along the race route. Unfortunately, this year, Chris accidentally left the trailer at the Aspen stage of the race, so it's not pictured.
The Team Chefs Run a Different Business Most of the Year
The Grealishs own and operate an environmentally friendly messenger company, Denver/Boulder Couriers, that delivers packages by bus, and of course, bicycle, when possible. Barb has a catering background, and Chris is a cycling fan who is friends with Cannondale-Garmin team manager Jonathan Vaughters. Seven years ago, the team held a training camp in New Mexico and the trainers lamented the lack of nearby healthy restaurants, so Barb offered her services. Now – every summer during the stage races in Colorado and California — the Grealishs load up the RV kitchen. "Our [DB Couriers] employees think we're on vacation this week," Barb laughed. "It's not exactly a vacation, but it's not like we're not having fun."