PERSONAL ERRANDS
Sometimes there isn't enough time in the day to run errands and when you're done working, you just want to head home. That's where our errand service comes in. Instead of spending your well-deserved time off fighting traffic and running errands, call us! We're there for all things last minute, with the same great rates and service every time.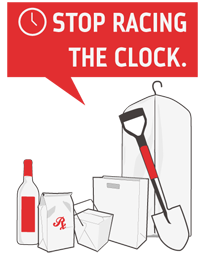 WE WILL:
Go to the hardware store for you
Bring you your lunch
Pick up your cleaning
Pick up your prescriptions
Make bank deposits for you
Pick up dinner, a bottle of wine, or a grocery store order
DO ANYTHING TO HELP YOU SPEND MORE
TIME DOING WHAT YOU ENJOY.
Tell us what, where, and when you want something moved and we'll figure out the most cost effective method to get it there.
Please contact us or call us at 303-571-5719 with your specific needs and we'll be glad to price them.